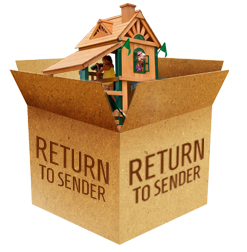 Return Policy and Credits
Swing-N-Slide is committed to providing fast and efficient service. If you are not happy with your order and it is in good condition, we will refund you the total product costs that you were charged, minus the actual shipping costs. This policy applies as long as the item(s) are returned within 30 days from shipping date and are in the original packaging (please also include the original packing slip).
Refund Information
Orders returned do not receive shipping reimbursements and are charged the actual shipping costs, to and from our warehouse. If a returned item was a swing set shipped for $149 or a "Free Shipping" item from us, then the refund for the product will be minus the actual shipping charges. *Please save a copy of all warranty, receipts, and delivery receipts for your records.
Replacement Shipments for Damaged Orders
If an order is refused at time of delivery due to damage, Swing-N-Slide will resend a new package out as soon as the damaged item is returned to our warehouse. The order must be canceled with a Swing-N-Slide customer service representative over the phone to avoid having a re-shipment. Please call our offices immediately if this situation occurs. *Please have a copy of all warranty, receipts, or delivery receipts when you call.
Canceling a Recently Placed Order
As long as an order has not been processed, your order can be canceled. Orders cannot be canceled after shipment has already occured, or if the item is in mid-route.
In order to cancel your order, you must speak to a customer service representative at (678) 649-8505. Our offices are open M-F, 8am-5pm EST.
Please be certain about the status of your order, as it is often impossible to stop a shipment that already has a tracking number placed on it. Please have a copy available of all receipts from your order, when you call so that we can locate it right away.